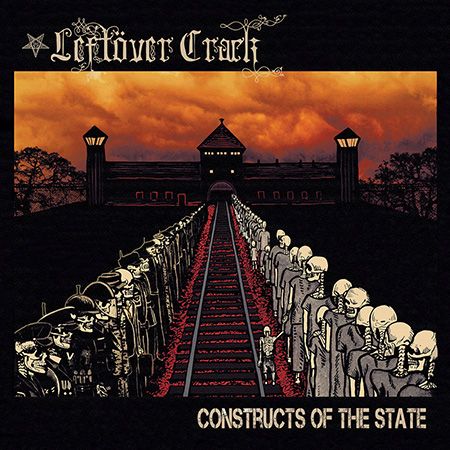 Leftöver Crack
have completed work on their long awaited third album,
Constructs of the State
, out November 27th. It's packed with 13 punk as fuck songs that infuse hardcore, metal, ska, classical, grindcore, folk and all of the fiercely overt political and socio-economic lyrical content the band have become known for. You can get a taste of what's to come by listening to a brand new song,
"The Lie of Luck"
, which appeared on our latest compilation:
Fat Music Vol.8: Going Nowhere Fat.
Constructs of the State also features a mass of contributions from the punk community including members of Operation Ivy, Crass, and Bouncing Souls, just to name a few. You can get your "crack" on next month as they'll be taking
Cracktoberfest on the road.
Don't miss it!

10/15/15 Long Island, NY – Emporium
10/16/15 Albany, NY – Upstate Concert Hall
10/17/15 Lancaster, PA - The Chameleon
10/18/15 Pittsburgh, PA Rex Theatre
10/20/15 Detroit, MI – Loving Touch
10/21/15 Cleveland, OH – Now That's Class
10/23/15 St. Louis, MO – Fubar
10/24/15 Springfield, IL – Black Sheep Cafe
10/25/15 Kansas City, MO – Record Bar
10/26/15 Chicago, IL – Reggie's
10/28/15 Omaha, NE – Lookout Lounge
10/29/15 Des Moines, IA – Lefty's Live Music
10/31/15 Minneapolis, MN – Triple Rock Social Club
11/03/15 Memphis, TN – The Hi Tone
11/04/15 Birmingham, AL – Saturn
11/05/15 Jacksonville, FL – 1904 Music Hall
11/06/15 Orlando, FL – Backbooth
11/07/15 Tampa, FL – Orpheum
11/08/15 Miami, FL – Churchill's
Fat Wreck Chords recording artists: NOFX, Lagwagon, Strung Out, and Swingin' Utters will be appearing on Last Call With Carson Daly! You heard us right. When the Fat Tour landed in Los Angeles, the fine folks at Last Call filmed four of our veteran bands to celebrate our 25th Anniversary! We've dubbed our late night takeover as "Fat Tuesday" and on Tuesday night, September 15th, NOFX will kick off a four-week run of Fat bands on network television! Each Tuesday night that follows for a month, another band from the Fat Tour will be appearing! So, remember, NOFX is confirmed to air this upcoming Tuesday as part of their NBC late night evening, so stay up late like a real punk, or set your DVR to record at 1:35/12:35C if you're old and boring. If you miss taping it, you can catch the performance on NBC.com and Hulu 24-48 hours after it airs.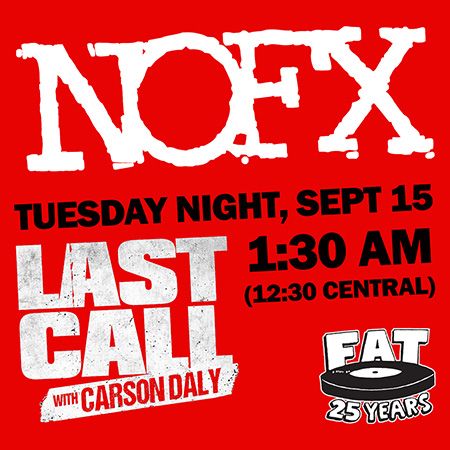 Riot Fest Chicago! We're coming back, we're coming back, we're coming back to you! We're super pumped to be coming back to Riot Fest in Chicago again this year! So excited that we made another flexi three-pack this year, but this year each is double sided, for 6 songs total! And there will be 2 different color versions of the pack, limited to 250 each! Fat Music For Riot Fest People 2 features NOFX, Strung Out, Good Riddance, Western Addiction, Night Birds and PEARS! Come pick it up at our booth starting Friday September, 11th. We'll have a Riot Fest exclusive T-Shirt and Hoodie as well as a bunch of random color vinyl so stop by and see us in between Less Than Jake (Sunday at 3:45) and PEARS (Saturday at 2:00).
Joey Cape's long awaited new solo album, Stitch Puppy, is out today! Check out a review or two, then pop over to Brooklynvegan to hear the album in its entirety. Get ready to see the songs performed live on the upcoming Stitch Puppy tour featuring One Week Records artists Brian Wahlstrom, Walt Hamburger, Jo Bergeron and Betty and the Boy! What is a Stitch Puppy? Head over to New Noise to read the latest interview with Joey Cape who describes how the doll became the muse for his album, lyrically and visually. If you missed Joey Cape's directorial debut, you can watch Stitch Puppy come to life in the clever and surreal video for "This Life IS Strange." If you haven't ordered your copy, you can do so today! Listen on Bandcamp or Spotify.
A few months ago we signed PEARS, the first band since Night Birds that both blew us away with their live show and had a killer record to back it up. Not wanting to wait until 2016 to get some new tunes out there, PEARS ripped out a couple new ones in the studio a couple months ago, and those two are on this brand spanking new 7", Letters to Memaw. It comes out in just two weeks, on September 18th, and you can pre-order it right now! PEARS get home from their current tour this weekend, and then head right back out with Teenage Bottlerocket on September 14th with the new record in tow, and continue through the Fall with Lagwagon. Check out what Zach has to say about Letters To Memaw:

"These are two songs from a quick session in April that subsequently got re recorded for the next full length. They were the first two written for our follow up, Snowflake is loosely about struggling to identify one's own power, and Anhedonia is loosely about a joyless life versus oblivion. We'll be touring with our buddies Teenage Bottlerocket through September/October, playing the fest, and then touring with our new friends in Lagwagon in October/November. New record in February. Stay tuned. This is about to get interesting."

We pressed a super limited amount of color vinyl to celebrate the 15th anniversary of Swingin' Utters S/T release. Pick it up here !