Bullet Treatment 7" out on Fat!
We are stoked to be releasing Bullet Treatment's lastest project. The brainchild of musician/guitarist Chuck Dietrich, Bullet Treatment is an unconventional hardcore act that functions as a revolving door of punk rock stalwarts and stars. Each release features different musicians from a wide range of bands coming together to write, record and occasionally perform powerful, driving, classically inspired punk rock.
Here's a word from Chuck, BT mastermind:
The main goal of the punk rock juggernaut that is Bullet Treatment is to play real hardcore punk rock—the kind that would make greats like the Circle Jerks, Minor Threat, and Bad Brains proud. Every project has different people involved, and members in past projects have included guys and gals from Suicidal Tendencies, Insted, The Bronx, Civet, The Voids, Dee Dee Ramone's Band, The Icarus Line, etc. For the most part, we fly by the seats of our pants, often recording without ever meeting each other. For this 7", every song will be exactly the same instrumentally, while each singer will write and perform their own individual vocal track without hearing any of the other recordings. Featured vocalists are Johnny from the Swingin' Utters, Russ from Only Crime, Thomas of Strike Anywhere, Tim from Rise Against, Stza from Star Fucking Hipsters and Chris #2 of Anti-Flag. The record is called Designated Vol. I, and will be available on vinyl 7" with a limited color pressing and for digital download.
<a href=http://www.fatwreck.com/record/detail/232 target="_blank">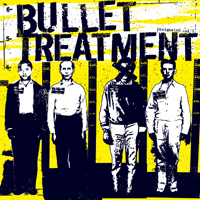 Look for a springtime release date and more info on Bullet Treatment back here soon!