CHIXDIGGIT!, Safeways Here We Come out today!
Canada's finest pop-punk export, CHIXDIGGIT!, are back with their latest masterpiece, a 7-song mini-album called Safeways Here We Come . The mini-album is available digitally, on CD and vinyl. Even though it's been 6 long years since their last record, don't expect any curveballs; this is classic CHIXDIGGIT! They'll be hitting the road this spring, including a show at Screeching Weasel's 25th Anniversary weekend in Chicago. Check out their tour dates here! And to listen to a stream of the mini-album, head on over here.
.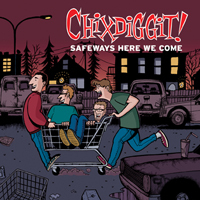 Take a peek at a review here!