Exclusive DEAD TO ME MYSPACE album premier and a free MP3!
MYSPACE.COM is currently premiering the new full length from DEAD TO ME titled AFRICAN ELEPHANTS out on November 10th. Click here to hear it and here to pre-order your very own copy! Since we love all this DTM activity, we decided to give away a free MP3 to coincide with the album premier. We are pleased to present "A Day Without A War". Click here to get it now!
A few words from Chicken on *DTM*'s recent activities:
Dead To Me has been on tour for the last couple weeks, having a blast playing and partying all over the country. We played THE FEST 8 in Gainesville on Halloween and it was probably the funnest show we've ever played. I was playing bass while crowd surfing, Ian was getting bear hugs while trying to play drums and Nathan had to play while being outsung by sweaty girls that kept hogging his microphone. We're super excited to be playing the songs off our new record "African Elephants" and we cant wait for the record release show in San Francisco with Grant Hart from the mighty Husker Du. Thanks to all the kids who have been coming out to sing along and jump around. Up the punx!
<a href=http://www.fatwreck.com/record/detail/749 target="_self">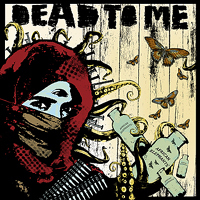 Check out DTM in INKED Magazine.
DEAD TO ME tour dates!
Read a DTM interview on Punknews.org by going here