FAT RECORD STORE – BLAND OPENING!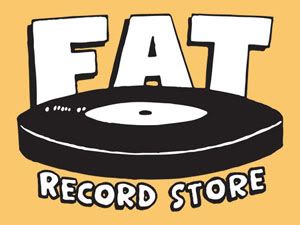 Who says brick & mortar stores are dead? Most people, that's who. And they're pretty smart people. Apparently we're not: it's 2012, and Fat is opening a record store. Sort of. Once in a while. Starting next Friday, June 22nd from 1pm to 5pm (PDT, duh) and about twice a month from then on, or whenever we feel like it, we'll be opening our doors to you lot. Bad decision? Probably. Unmitigated disaster? Possibly. A nice buzz? Definitely. We'll have the entire Fat catalog of course, some colored vinyl you may have missed, some rare old stuff, some fancy new merchandise, and all without giving any money to the postal service! Plus, we'll be drinkin' beer while you shop. We might even let you have a sip if you're nice…
And I can't believe we're about to do this, but here goes, our address is… 2196 Palou Ave in San Francisco. We'd give you directions but we're lazy. Google map that shit and come on by next Friday between 1 and 5 with cash or card. And by the way, if you show up ANY time other than that, you will be banned! No Tuesday drop-in's, no Friday at 10AM bullshit. Friday between 1 and 5 ONLY! Please respect our neighbors and our block.