Flatliners, Cavalcade out today!
The Flatliners' Cavalcade is out today and you can order it on CD, vinyl, or digitally via ITUNES by clicking here. We have two free songs available for download and you can get both by going here. The lads can never be accused of sitting on their laurels as they're currently on tour supporting their release with no end in sight. Check their dates here! Lookie at what Chris from The Flatliners had to say about the release below:
Cavalcade has finally been unleashed. Internet nerds have already heard it. Maybe you have too. Maybe you heard the fake version we put up on torrent sites with cats meowing and high school bands covering Nirvana. If so, gotcha! All of the above are OK. Its out now and we are unbelievably proud of this record and are happy to have it finally officially released. It was a longer process than usual, but we were able to really take our time with it, and include a bunch of our friends in the process this time around.
I saw Fat Mike in San Francisco the other day and he told me that he thinks people will really like it. That made me smile. Then we swapped stories of feeding people our pee, and he sang me his "Pee Song". Anyways, our new record is finally out and we're excited. We hope you are too!
<a href=http://www.fatwreck.com/record/detail/748 target="_self">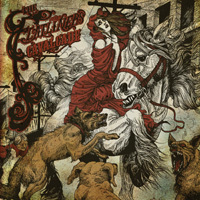 Try your luck in a Flatliners contest here or here!
Wanna read a review? Or two?
Listen to a stream of Cavalcade here.