GOOD RIDDANCE, Capricorn One (singles collection) out today!
GOOD RIDDANCE Capricorn One is out today and you can order it on CD, vinyl, or digitally via ITUNES by clicking here! California punk band Good Riddance have pooled together 21 of their best, rarest tracks including 6 previously unreleased tracks and other rarities. All the songs on the album have been digitally remastered by Jason Livermore of The Blasting Room and you can hear a full album stream compliments of AOL/Spinner by clicking here . Additionally, we've posted a free track available for download titled "Lame Duck Arsenal". Enjoy!
<a href=http://www.fatwreck.com/record/detail/756 target="_self">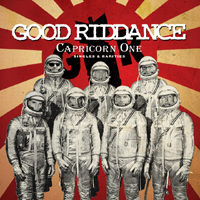 Take a peek at this interview and read a new review by going <a href="http://lostinreviews.com/2010/07/good-riddance-capricorn-one-singles-rarities-fat-wreck-chords-2010/" target="_blank">here!