GOOD RIDDANCE in the studio!
November 6, 2014 – For the first time in nine years… Good Riddance has entered the studio! These Santa Cruz, California punk rock/hardcore heroes have once again teamed up with Bill Stevenson and Jason Livermore (Descendents, The Blasting Room)—the production team for over half of Good Riddance's illustrious catalog — to record their first album of new material since reuniting in 2012. The past two years have been spent on the live circuit, proving to the fans and to themselves that they are still a musical force to be reckoned with, a group whose catalog of great songs is undeniable. With the fans' seal of approval and a well of creativity brimming over, the eighth Good Riddance album that once seemed impossible became a creative necessity for a band that has never rested on its laurels and never coasted on its past success. When they found themselves mentally and creatively exhausted in 2007, they opted to call it a day instead of giving the fans anything less than 100% in their writing and performing. Re-energized by a five-year hiatus and two years of carefully but steadily ramping up activity, Russ Rankin, Luke Pabich, Chuck Platt and Sean Sellers—the "classic" Good Riddance lineup—prepared themselves for today, the first day at Motor Studios in San Francisco, to record a grip of new songs that all of us cannot fucking wait to hear.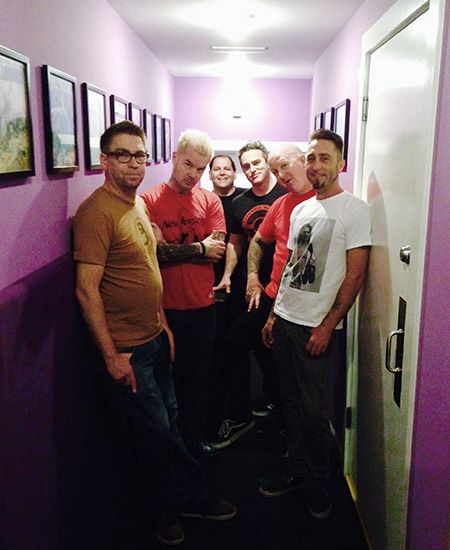 L-R: Luke Pabich, Russ Rankin, Bill Stevenson, Jason Livermore, Chuck Platt, Sean Sellers in the hall at Motor Studios on Day One of the new Good Riddance album.