Home Street Home: Original Songs from the Shit Musical out Feb. 10th!
The rumors are true! Today, we're thrilled to announce the details of HOME STREET HOME, a new punk rock musical concept album that we'll release on February 10th in advance of the theatrical production. Home Street Home tells a story of survival and love among runaway teenagers living on the streets, and features music written by Fat Mike, Soma Snakeoil and Jeff Marx.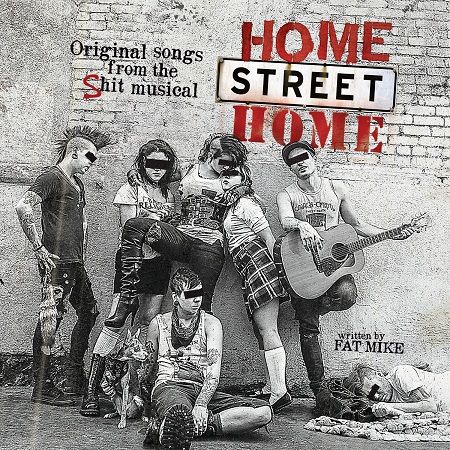 The studio album features performances by Fat Mike and NOFX, and sees the play's characters inhabited by a wide roster of vocalists including Frank Turner, Alkaline Trio's Matt Skiba, Tony Award winner Lena Hall (Hedwig and the Angry Inch), Bad Cop/Bad Cop's Stacey Dee, the late Tony Sly of No Use For A Name, and Dance Hall Crashers' Karina Denike. Members of Descendents, Lagwagon, Old Man Markley, Mad Caddies, Me First and the Gimme Gimmes, The Aggrolites, The Living End, The Real McKenzies, and RKL also play on many of the tracks. The Home Street Home concept album includes a portion of the songs that will ultimately comprise the full score of the new musical.
Based on true stories of the authors' experiences, the story of Home Street Home revolves around Sue, a 16-year old runaway who plunges headfirst into the deviant subculture and alternative lifestyle of the streets. After being adopted into a tribe of homeless teens, Sue finds empowerment and acceptance from her new chosen family.
Fat Mike said, "Ever since I saw Rocky Horror when I was 8, I've been intrigued by musicals. Well, not all musicals, just the ones that break the mold. Luckily, I found two people, Jeff Marx and Soma Snakeoil, that love breaking things as much as I do. This is fucking fun!"