NEW NOFX DOUBLE A-SIDE SINGLE!
Xmas may have been X'ed back in September when Self Entitled dropped, but given that this is the last Christmas, we thought we should spoil you with one last NOFX limited edition vinyl release. It's the third single of the year from NOFX, and a double A-side at that: Xmas Has Been X'ed / New Year's Revolution. The A-side is classic NOFX, a true punk rock Christmas anthem to be filed right next to Fear's Fuck Christmas. And in typical NOFX fashion, it's a Christmas story wherein the Jews come out on top. Shocker. Now flip the record over to the AA-side and you've got your "New Year's Revolution," an outtake from the Self Entitled sessions, followed by a new recording of the much-loved but overlooked gem "Wore out the Soles of My Party Boots." If you pre-order now, you'll get the digital copy delivered to you on December 25th, but you gotta wait til the new year to get your vinyl mailed to you. Check the killer original art for both sides below, and pre-order it today!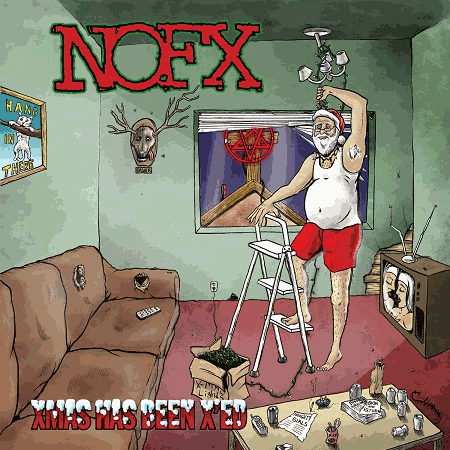 NOFX kicks off their tour in Minneapolis on December 4th, check their tour dates here!