New record from STRUNG OUT, out Sept 29th!
PUNK PIONEERS STRUNG OUT CELEBRATE 20TH ANNIVERSARY WITH THE RELEASE OF SEVENTH STUDIO ALBUM . Agents Of The Underground out September 29th via Fat Wreck Chords .
Over their tenure as the progenitors of the metal-infused punk sound, STRUNG OUT have yet to get complacent. Instead, like a championship fighter that gets stronger with every round, they continually unleash a battering assault of technical guitar work and gripping melodies. The band's latest full-length (7th overall), Agents of the Underground, is a triumphant defense of the title they've held for years. Click here to view the bands web site.
<a href=http://www.fatwreck.com/record/detail/739 target="_self">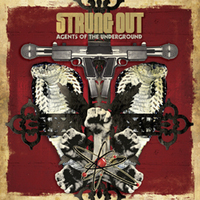 Track Listing:

Black Crosses
Carcrashradio
The Fever and the Sound
Heart Attack
Vanity
Ghetto Heater
Agents of the Underground
Nation of Thieves
Jack Knife
Dead Spaces
Andy Warhol
STRUNG OUT have recently announced their upcoming tour dates, click here to check them out!