Night Birds Video Premiere! Mutiny at Muscle Beach Pre-order!
Time to face your fears because Night Birds new video for "Mutiny at Muscle Beach" is going to horrify you for sure. Or maybe just entertain you, if classic '80s gore is your thing! After watching this video being premiered by Bloody-Disgusting, you may want to think twice about exploring those abandoned buildings like we know you bored suburban punks like to do. The boys in Night Birds have luckily made a full recovery and are hitting the road with Dillinger Four this October and performing at The Fest 14, all in support of their brand new album, Mutiny at Muscle Beach, out October 2nd available for pre-order now! (Details below) You think these dudes like horror flicks? Duh!
"Pro wrestler, Jeff Cannonball, tried recording over that video of him murdering and hacking us up into little pieces with some footage of us performing our brand new SMASH hit gold single, "Mutiny At Muscle Beach", in a basement… but any 30+ year old remembers what would happen when you would record over an old VHS tape. Some of that recorded-over footage was bound to scramble in here and there and resurface in all it's fuzzy gory glory! Yes, we're dorks. Yes, we love slasher flicks. Hi, we're the Night Birds. Enjoy…" – Brian Gorsegner (Vocals)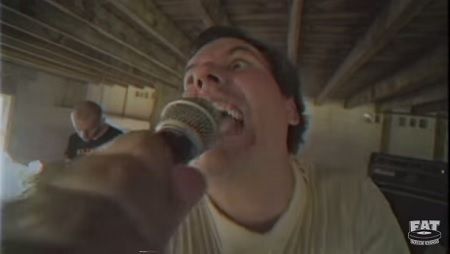 As you collector dorks know,
Night Birds
have never had a slab of colored vinyl, and they aren't starting now! But, they still like to satiate your desire for rare vinyl… SO, we pressed 500 copies of
Mutiny at Muscle Beach
on 180 gram black vinyl, and the band created hand-numbered, hand-assembled, special covers just for these copies. You can
pre-order your copy
from us now, or pick one up from the band in October!
AND
, we're releasing a cassette for the first time this century!