OLD MAN MARKLEY'S DOWN SIDE UP OUT MARCH 5th!
We're thrilled to announce that on March 5th we'll release Old Man Markley's sophomore album, Down Side Up! These hard working critters really do live on the road. With their extensive touring over the past few years, they've shared the stage with the likes of NOFX, Against Me!, Social Distortion and more. But that isn't even the most interesting part about these folks. Old Man Markley love to play live, anywhere, anytime and the proof is in the pudding. Check out this list: Stagecoach, Fun Fun Fun, Hootenanny, and our favorite: Capay Tomato Fest! Anyway, we love that because we enjoy a band that excels at doing what bands should: touring and making music. Fun! No primadonnas here. Have you seen their traveling tour bus? Crampy. But that shows you their love—basically they have zero privacy 360 days out of the year. What that delivers is a cohesive, foot tapping, stomping, 13 song album titled Down Side Up, produced by Fat Mike and singer, Johnny Carey. Read what Katie Weed had to say below.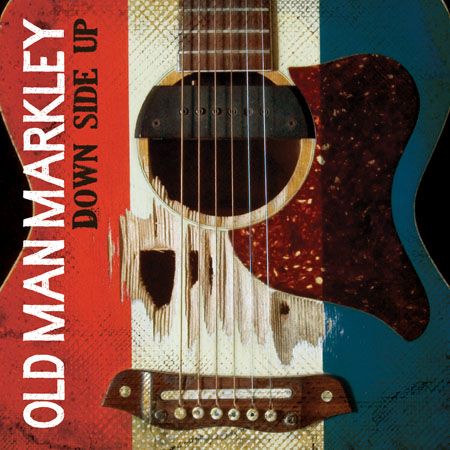 The songs on "Down Side Up" are the result of a wonderful confluence of things: of touring for years and waking up together in cities across the world, of discovering new worlds while still missing home, of stories that we've wanted to tell for ages, of melodies that permeated our minds and then soundchecks, and of songs that took shape and life truly as a collaboration between band members. Fat Mike and Johnny worked closely with the band to produce what we think is the best album we've ever been a part of. And it happened to be recorded in the same room where we used to burn stove-top popcorn and drink beer and dream about how amazing it would be if we could turn this passion into a life, or even career.We lived, breathed, ate, and slept these songs. Several members literally lived in the studio that we built. Recording in our own studio provided almost unbridled freedom: unlimited opportunity to tweak the songs, and the luxury of being able to take creative risks. Harmonies conceived and recorded at 3 AM or solos re-recorded during lunch became the norm, and allowed us myriad options and creative control. Where else but in the

OMM

home studio could we lay down a ripping distorted autoharp track and then pop outside to the backyard to record the crickets of Van Nuys? We're excited to get back on the road and play all these new songs. We've got our banjo and washboard in hand, ready to

FUCKING

ROCK

!