Strung Out cover art!
We're thankful to have survived the perils of overeating and binge drinking that we here at Fat associate with the Thanksgiving weekend. To celebrate, we decided to give you a sneak peak at Strung Out's new killer cover art: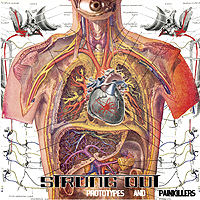 The record is an extensive collection of B-sides and outtakes titled Prototypes and Painkillers. It will be available March 2009 on CD and LP.
But first, The Loved Ones new EP Distractions is slated for a February 3rd release. Finely tuned from a slew of international tours, TLO recently hit the studio to record a six song EP that impeccably captures their Americana roots, pop influences, and unforgettable melodies—not to mention a tune or two you may already know and love…