TEENAGE BOTTLEROCKET release Mutilate Me 7" on April 12th!
Fuck yes, Teenage Bottlerocket have a brand new 7"! It's called Mutilate Me and comes out on April 12th! The three song 7" will be available digitally and obviously on vinyl. Check out what Ray from TBR had to say below:
We named the 3 song 7" after the title track "Mutilate Me". It's a song about preferring things a little rough in the bedroom. The second song "Punk House of Horror" is a warning about a house you wouldn't want to visit or sleepover. While being on the road we've been unfortunate enough to end up at the Punk House of Horror a few times. It smelled. We recorded the final track for the Bad Religion tribute comp, but we ended up not making the cut. The tune is "Henchman" from No Control. We are heading over to Europe in April with NOFX and Old Man Markley. We are playing with Screeching Weasel on May 27th at Reggies in Chicago. We can't wait to play, and hang out with everybody!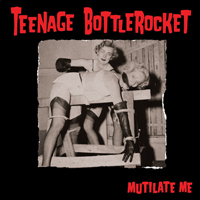 Check out TBR tour dates here!