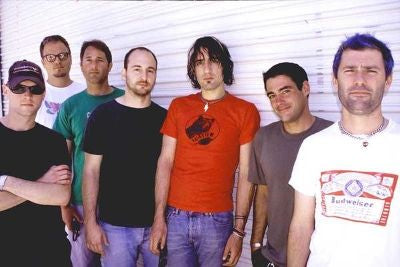 Bad Astronaut
"My favorite thing in the world is when bands make three records, break up and then years later, there's an anthology or a box set," says Joey Cape. "And you're immediately like, 'Why? But also, 'I'm gonna buy it!'" It's with that type of self-awareness, as well as a deep appreciation for the music he created, that Cape is proud to finally announce a limited-edition box set for Bad Astronaut, a project built out of deep friendships with Marko DeSantis (Sugarcult) and the late Derrick Plourde (Lagwagon), that has always had a bit of mystery surrounding it. "It's like a missing link in my life," Cape says. "When I have that box set in my vinyl collection, I'll feel like, 'Okay, I can finally move on.'" 
Not only is this long-overdue release cathartic for Bad Astronaut's surviving members, but it is also a much-desired collector's piece for the group's fanbase. This box set represents the first time 2002's Houston: We Have A Drinking Problem and 2006's Twelve Small Steps, One Giant Disappointment will be on vinyl, and 2001's Acrophobe will get its first vinyl pressing since 2010. All three albums have been painstakingly remastered for maximum fidelity, something which is of great importance to Cape and DeSantis. 
"Sound quality is a really important thing," DeSantis says. "The fans of Bad Astronaut are headphones listeners." 
Even more exciting, however, is the inclusion of Inner-Space, a brand new 7-inch from Bad Astronaut, which includes a never-before-heard alternate version of "Violet" as well as "Wide Awake," Bad Astronaut's first new material in 15 years. Written by keyboardist Todd Capps, the song was borne out of (what else?) a pandemic-necessitated Zoom hangout in which the remaining members of Bad Astronaut — Cape, DeSantis, Capps, and multi-instrumentalists Angus Cooke and Thom Flowers — caught up with one another. It wasn't long until the ideas began to bounce from computer to computer. 
"Todd Capps has been doing scoring with virtual instruments forever, so he was able to put forth something that was pretty much done," remembers Cape, adding that they recruited Kye Smith to play drums. "I wrote the lyrics, but Todd wrote the melody. I think it came out really cool." It seems fitting that it took a global pandemic to get the members of Bad Astronaut to stop moving long enough to collaborate once again. The band has always been a mysterious entity, created when its three core members felt burnt out with their main creative endeavors and wanted to explore more sounds than they were allowed to in their day jobs. 
"We were always talking about indie music or classic music we were re-discovering," recalls DeSantis, mentioning artists such as Built To Spill, Radiohead, Grandaddy and Elliott Smith, whose "Needle In The Hay" the group covered on Acrophobe. "No disrespect to current punk music, but our musical vocabulary was so much more than we could articulate in our main bands." 
"When I'd say to the guys in Lagwagon, 'There's gonna be a keyboard in this song,' they'd say, 'No there's not,'" Cape remembers with a laugh. "It became painfully obvious that I had to do something else." 
"It's Lagwagon for grown-ups!" DeSantis says with a laugh of his own — and while Bad Astronaut may have first been viewed as a more experimental band that might not connect with the average Warped Tour attendee, time has been remarkably kind to their output, revealing a level of songwriting and production not commonly seen in punk rock. Sadly, it's hard to listen to Bad Astronaut without thinking about Plourde, an immensely talented drummer who took his own life in 2005. 
"We're still really proud of this music, and enough time has passed that we can go back and listen to it objectively," begins DeSantis. "But it's bittersweet because you get so stoked to think about Bad Astronaut, it brings back so many inside jokes and great feelings and pride, but then it also reminds me that Derrick died, and he didn't die in a very sweet way. It's a hard place to return to, but at the same time, you just remind yourself that anything that has Derrick involved in it keeps Derrick alive to some degree." "I felt the same way going through the music for this box set," says Cape. "It was really lovely to hear how Derrick would finish my musical sentences." 
With the release of this box set, it feels like the book of Bad Astronaut has closed — but then the inclusion of the new 7-inch makes you wonder if a new chapter is opening. If you ask Cape and DeSantis about Bad Astronaut's future, however, even they don't have a real answer. 
"I've got many hard drives that say BAD ASTRONAUT in Sharpie on the top of them," says Cape, implying a treasure chest of previously unreleased material and rough recordings that could be polished into something new — until he finishes his sentence: "...and a bunch of these hard drives didn't work." 
Thus is the story of Bad Astronaut: A band created out of friendship and a true love of all types of music, that has lived up to the promise of its name & debut album title (Acrophobe); staying underground to avoid heights!" 
"We're kind of this secret band," DeSantis posits. "We didn't want to do photo shoots, we didn't want to play shows. But the more you don't do something, the more your myth grows." Will there ever be more Bad Astronaut in the future? Only time will tell.In the meantime, Cape says, we should appreciate what we have now, including this comprehensive box set: "I think this stuff is gonna sound good."