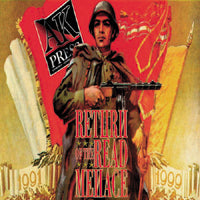 Return Of The Read Menace
This item is sold out and not available to order.
For orders that include digital songs, those are delivered as 320kbps MP3s and available to download immediately after purchase, for up to 5 days.
DON023 - June 29, 1999
AK Press Audio & Honest Don's present a benefit for AK Press.
25 song CD

Track Listing

1. My Own World
2. Tightrope
3. Hybrid Moments
4. Microwaved (live remix)
5. Direction Sensor
6. Niemand Beisst Die Hand Die Einen Futtert
7. Pauline
8. Permanent Free Zone
9. Small Victories
10. Hard Times
11. Me And The Boys
12. You Wanna Play Cards
13. Leo Lachance
14. Misbehave
15. Ringing Of Revolution
16. History Of The Soviet Union Part One (karaoke mix)
17. Springtime
18. Suspicious Minds
19. Son Of A Baker
20. Hats Off To Halford
21. Trouble In The Sky
22. Purchasing Power Of The Paranoid And Hopeless
23. Degeneration
24. Hell And Back
25. Girlfriend