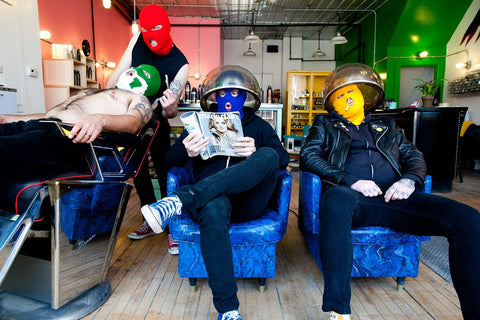 Masked Intruder
Straight outa Rikers. Straight outa Cook County, straight outa that prison in Louisiana that everyone says is horrible, but I can't be bothered to Google, it's MASKED INTRUDER, four melodious felons in ski masks with rap sheets, matching converse and some of the catchiest tunes this side of Johnny Cash, Live in Folsom Prison, and they're coming at you with their second full length, the semi eponymously titled M.I., scheduled to break out on Fat Wreck Chords on May 27, 2014.
Some say they hail from Wisconsin, some say their accents on stage betray a New Jersey heritage and some people think they're just Chixdiggit in disguise, but one thing's for sure, Blue and the gang have been crafting some of the sweetest pop-punk gems about breaking and entering, stalking, and muggings that you've ever heard. Not many grown men in ski masks can claim to be the very favorite band of Fat Mike's daughter, for example (not many men in ski masks should be around children at all) but that's what makes Masked Intruder so special. They're more than a gimmick. They've got chops. They're weird, kinda arty, fairly goofy, vaguely dumb, relentlessly smart and they appeal to pretty much everyone, from their fellow hardened criminals to little girls and everyone in between.
Now, they're back on the lam in support of M.I., featuring thirteen tracks of broken hearts, broken promises and breaking and entering. Recorded by Matt Alison at Atlas Studios in Chicago (Alkaline Trio, Lawrence Arms, Menzingers), M.I. boasts the Intruders at their toe tapping, jewelry stealing best. I mean, if there's a better title for a love song than Don't Run Away, I sure as hell haven't heard it.
In support of M.I., and in order to stay a step ahead of their parole officers, the Intruder duders are hitting the road nonstop, traversing the globe, from Europe to Australia to the US of A, with bands like the Dwarves, Face To Face and more, bringing their heart-stealing songs to the people, all while merch dude, stage security and exquisitely mustached lawman Officer Bradford makes sure that hearts are the only things Masked Intruder steals. Officer Bradford may not wear a smile during a Masked Intruder show, but everyone else in the house sure is, and you can bet your ass that whether live or on record, the boys in Masked Intruder are sure to have you singing along and looking for your wallet. Oh, that prison in Louisiana is called Angola. Score one for memory. Take that, Google.